Welcome to my website

Currently working on Luxury Gulag

My Instagram!

Shop!

Scroll down to see some
of my current and past
projects

|
|
|
|
|
|
|
💩 |
/
/
/
/
|
|
V
Luxury Gulag
After being fired from his job at Adidazon and exhiled from Neo-Seattle, Johnboy Booer follows a scent south to the People's Republic of Tacoma. Upon arrival, Johnboy is denied entrance into the worker's paradise and goes to the Luxury Gulag and attends intensive group therapy to uproot his own arrogance, sexual anxiety, and deeply held problematic views.
Luxury Gulag is a 22 page risograph printed graphic novel with an accompanying point&click adventure computer game. It is part of the ongoing publishing project of Night Time Science. Luxury Gulag is set to release late 2020.
Follow Night Time Science:
<Instagram>
<facebook>
<www.NightTimeScience.com>
Beaverton 2200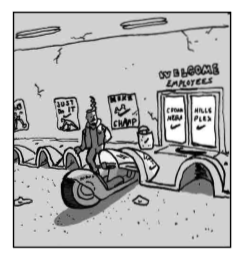 In futuristic cyberpunk suburban Neo-Beaverton, young Moses Estrada finds himself stuck between a monolithic city-state shoe corporation and a resistance group known as AntiNi, operating in abandoned strip malls. Toiling to keep up on bills and support his ailing mother, Moses is forced to face an ideological impasse between the familiarity of his old life, and a revolutionary fervor on the horizon.
Beaverton 2200 is a three part graphic novel series by Matt Dan, Hector Estrada, and Charlie Bewer as a part of the ongoing publishing project of Night Time Science. Part Two is set to released early 2019.
<Purchase Beaverton 2200 Part One> $15 USD
The Funky Horizon
At the time of this writing, the 21st Century is 16.43% of the way towards completion. That means that people will need to trudge through 83.57% of a century until the outcome of our current decisions become clear to reflect on. Maybe a documentary will be made about it. By the start of the 22nd century, I will most likely be dead. I estimate that I will be able to witness about 60% to 70% of this century unravel.

A conflation of anxieties lies between two graphical lines. A hero arrives and brings pollution down to zero. My shadow envelops me into a Funky Horizon off in the distance where I prepare for the long haul. I have never actually planted a tree now that I come to think of it, but I have planted several weeds by blowing on dandelion flowers. If nature is a place beyond my understanding, why can it still be navigated? Preparations have been made, however I'm already doubtful that they will be useful. There is still a wide gap between the present and the future – something unthinkable will collapse this gap. This arbitrary timeframe is my permanent home.

These works are about environmentalism on pause in the 21st Century, and the complicit peripheral objects in this standstill. Particleboard disguised by vinyl and T- Molding act as frontline objects, easy to clean and ready to bore the public brunt. None of these materials are recognizably natural. They are presented at fast food restaurants, government agencies, and the grocery store. Here they serve to delay a larger dread of slow ecological death. There is strong personal nostalgia underlying this work. The goal is to reinvent this nostalgia towards a larger dialogue around the state of paralysis in the funky horizon of the 21st Century. It is much like being trapped in the middle of the desert with no one else but Gumby to keep you company.
Car Story
People who lose a limb often report feeling a 'ghost like presence' of their lost appendages. The car is something like a super-appendage of traveling powers. What can I do if my car drives off without me?

Car Story is an interactive installation made for Boundary Crossings in Portland, OR.